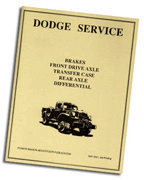 Dodge Service Manual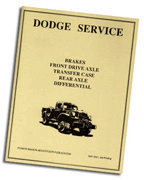 Dodge Service Manual, Third Printing
Once again available, had been out of print for a number of years.
Continued inquiries prompted this printing.
A manual covering brakes, front drive axle, transfer case, rear axle, and differential. The contents of this publication deal with the 1-ton Power Wagon manufactured under model designations WDX-WM300. Partial coverage of other applications will occur. Examples would be: Brake coverage applicable to M-series Dodge, WWII 3/4 and 1-1/2 ton. Front axle coverage applicable to M-series Dodges, and partially applicable to WWII 1-1/2 ton and late series 3/4 ton. Rear axle and differential coverage the same as front drive axle applications.
Includes material from factory literature and considerable supplementary text intended for those who have not been down the path before. Great for both the novice and the experienced. The supplementary text alone is worth the price. This manual is something you should not be without if you do your own repairs. Paperback
Domestic orders just $15 plus shipping and handling.
Order one for your shop, one for the bedroom, and one to keep by the toilet. Visit the Store, or order by mail.
Mail your order to:
Power Wagon Advertiser
2587 Highway 1
Fairfield, Iowa 52556
U.S.A.